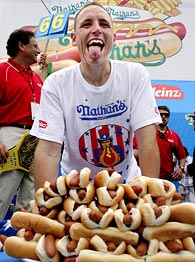 Sportscasters tend to be prone to hyperbole, I guess.
I happened to watch the Hot Dog eating contest today (on TV, not in person), and I have to admit that I was curious to watch the eating contest, what with Joey Chestnut poised to break Takeru Kobayashi's 6 year winning streak, not to mention a few records.
And it did get pretty exciting towards the end, when they both broke the previous records with several minutes to go, and then they were neck and neck to the finish, and then there was that moment when Kobayashi apparently lost it - literally - right at the end there.
But still, I have trouble even calling competitive eating a sport, so I really think the ESPN announcers were kind of over the top in predicting that a win for Chestnut would be "the greatest moment in sports history." I'm curious to see what my dad thinks of this.